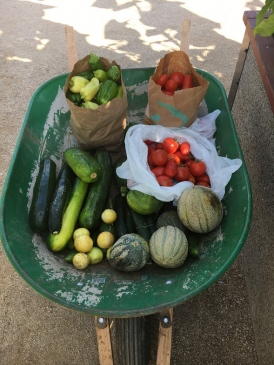 Summer Harvest/Fall Gardening
This photo of the Natomas Garden and Arts club's garden plot harvest at Ninos Community Garden is only a part of the story. The corn is just waiting to be picked, the melons are ripe for plucking, juicy tomatoes, beautiful purple eggplant, cantaloupe and so much more all being donated to the Sacramento Food Bank. It's harvest time!
As the seasons change, what you grow in your garden needs to change.
Fall gardening begins with removing all the plants no longer producing. Remember to compost the disease- free foliage. Now would be a good time to add fresh compost to your soil.
Vegetables to plant from seed in the Fall are beets, chard, collard greens, leeks, radishes, spinach, and anything else you enjoy. There are some flowers that need to be planted from seed in the fall for stratification. Just to name a few- cornflower, nasturtium, poppy, sweet peas. Remember to take care of the pollinators by planting milkweed. In the Sacramento area plant Showy Milkweed and Narrow-Leaf Milkweed from seed in the fall. Set out vegetable transplants now- broccoli, cabbage, cauliflower, kale, and leaf lettuce. For a complete list check the master gardeners fall guide on their website sacmg.ucanr.edu. Fall gardening is my favorite time because there are fewer pests and much more comfortable weather to work. 
Like seasonal planting, seasonal eating needs to change as well. Seasonal eating used to be commonplace but now we have access to most fruits and vegetables year round, though eating in season is better for our health, our communities, and even our food budget. Locally grown produce is more nutritious, tastier, and better for the environment. Growing your own in a community garden plot, your backyard, or a container garden is ideal but we have many choices in our area for local seasonal produce. In Natomas on Saturday mornings starting at 8a.m. the Natomas Farmers Market at 2501 N. Market Dr. The year round market is under the WX freeway every Sunday morning. These are fun, family friendly events. Don't like those choices? How about, at our fingertips, we have the ability to order farm fresh boxes delivered right to our doorsteps. The boxes come in different sizes and now you can customize each delivery to insure its items you will enjoy. The perfect choices for making dietary changes to make sure that we are getting the right amount of fruit and vegetables to stay healthy. 
Garden questions? Contact us at natomasgardenarts@gmail.com