Chalk It Up Around Natomas and Fremont Park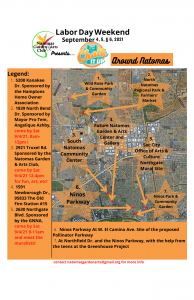 Come and see the NGAC Chalk It Up artwork all around Natomas done by local artists including our club president Amie Tokuhama Chapman! The map shows the 7 locations in Natomas where you can see Chalk It Up Art over Labor Day Weekend.
This is the final day of the Chalk It Up Event in Sacramento. Please visit the Fremont Park Chalk It Up event at 1515 Q Street in downtown Sacramento.