Come and see the NGAC Chalk It Up artwork all around Natomas done by local artists including our club president Amie Tokuhama Chapman! The map shows the 7 locations in Natomas where you can see Chalk It Up Art over Labor Day Weekend.
---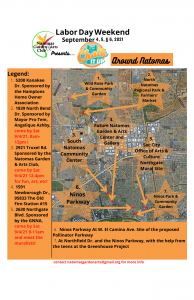 On Saturday September 4th be sure to make a special stop at these sites
Site 3 - North Natomas Regional Park & Farmers Market 1839 North Bend Dr from 8:00-Noon. Chalk It Up at this location sponsored by Mayor Pro Tem Angelique Ashby.
Site 3 - South Natomas Community Center at 2921 Truxel Rd - come by from 12-4:00pm for fun, art, etc!
Site 5 - Northgate Office of Arts & Culture Mural Site 2630 Northgate Blvd -meet the muralists from 9-11am! Sponsored by Gardenland Northgate Neighborhood Association (GNNA).