November 8, 2021
November 9, 2021
November 10, 2021
4:30 pm: Monthly Board Meeting
Each month the NGAC Board members discuss current projects, propose new projects and celebrate completed projects. Are you interested in moving the NGAC forward? Send inquiries to natomasgardenartsclub@gmail.com
November 11, 2021
November 12, 2021
November 13, 2021
12:00 pm: Artists' Reception 1591 Newborough Drive Art Show
Come join us from noon until three outside the future home of the Natomas Garden & Arts Center and Gallery. Come meet the artists and visit with your friends and neighbors. Come learn about the plans and timeline for the opening of the Center and Gallery and what YOU can do to be a part of it! Most of all, come enjoy the beautiful works of art.
November 14, 2021
9:00 am: Ninos Pollinator Garden BIG Workday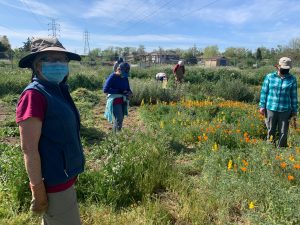 Please come and help. This will be a big workday on Sunday November 14th from 9:00 to 11:30am at the Ninos Parkway Pollinator Garden !
We will be planting some new plants, re-mulching the garden, clearing and mulching pathways, and doing some weeding.
Free milkweed plants (host plant for monarch butterfly) for people who come and help!
Please contact Angela Laws (angela.laws@xerces.org) if you plan to come, so that we can make sure there will be a safe distance from one another. We'll be wearing masks. The Ninos Parkway Pollinator Garden is located next to the Ninos Community Garden (just outside the community garden's fence). Park at the cul-de-sac end of Northfield Dr.
November 15, 2021
November 16, 2021
November 17, 2021
4:00 pm: Art Committee 2.0
November 18, 2021
6:00 pm: Welcome to the NGAC (monthly meeting)
Welcome to the NGAC monthly meetings, open to the public as well as our membership. This is where we connect with one another, host special guest presenters, review current projects, outline future plans for our club and generally discuss all things gardening. Zoom link for each meeting is published in the NGAC monthly newsletter and social media channels one week prior to meeting date.
November 19, 2021
November 20, 2021
November 21, 2021